The CRS4 is an interdisciplinary research center set up by the Autonomous Region of Sardinia in 1990 whose sole member is the regional agency Sardegna Ricerche.
The Center promotes the study, development and application of innovative solutions to problems arising from natural, social and industrial environments. These developments and solutions are based on information science and technology and high performance digital computing.
Since 2003 the Center is located in the Science and Technology Park (Polaris), a place of attraction for high-tech research, in the Municipality of Pula, about 40 km from Cagliari.
The CRS4, initially led by the Nobel Prize winner for Physics Carlo Rubbia (1990 – 1999), had the following Presidents: Nicola Cabibbo (2000 – 2003), Carlo Rubbia (2003 – 2006), Paolo Zanella (2006 – 2014), Luigi Filippini (2014 – 2017), Annalisa Bonfiglio (2017).
About 150 people are currently employed.
WHAT DO WE DO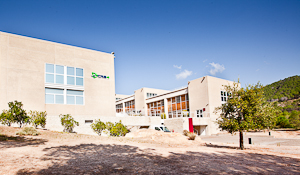 The mission of the Center is to help Sardinia to create and grow a fabric of hi-tech companies essential for its economic and cultural development.
The technological development and scientific research of CRS4 focus on enabling computational technologies and their application in the fields of biosciences, the information society, energy and the environment. Thematic sectors characterized by a high economic and social impact, which respond to the needs of the market, the community and the need to develop products, processes and services with a high technological content.
The Center's objective is to study, develop and apply innovative solutions through a multidisciplinary approach, using highly specialized skills and knowledge. On this basis, the CRS4 stipulates agreements with the academic, business and scientific world, also participating in relevant national and international projects.